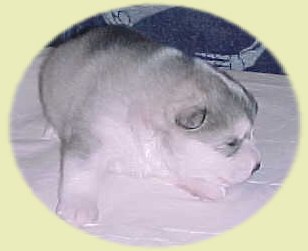 Togiak Hell N Hi Jinx..
Was born on 11 May 1999 at 9.30am. Thanks to Drs Stuart Williams and Kelly Graham of the Yass Veterinary Clinic NSW, she arrived safe and sound by C-Section
She is busy living up to her name and causing a lot of Hell and plenty of Hi Jinx.
Shown very VERY sparingly (4 times) she has 3 class wins, 2 Puppy of Breed and a Baby Puppy In Group award to her name.
Visit Jinx's Photo Albumn
--BACK--
| Rowdy | Jinx | Gypsia | Links |
| About | Contact | Updates | Guestbook |
All Graphics and Design Content Copyright Erin Guest, Keltic Knights - Glass Dragons Inc. 2000.
All Photography and Content Copyright Jaye Jeffers 2000. Professional Photos by Cabal.
Site Best Viewed in Netscape 4 and Above, in 800x600 Resolution.